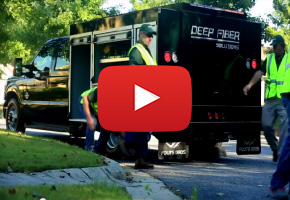 The Proven, Low Cost Method of
Converting Coax Networks to Fiber Optics
Deep Fiber Solutions converts cable operator coaxial cables to fiber optic infrastructure, which allows the operator to deploy fiber deeper in the network. Discover the top Canadian gambling sites in 2023.  This deployment is at substantially lower cost than traditional boring and trenching and is completed in a fraction of the time.  When fiber is pushed deep into the network the result is dramatically lower power and maintenance costs. We offer a compelling turnkey solution beginning with span qualification and ending with fiber splicing and activation of service over your new fiber optic network.

The Deep Fiber Solutions Value Proposition
Contrasted with conventional boring or trenching construction techniques, coax core ejection is lower cost, results in faster deployment and avoids the complications associated with heavy construction techniques.
Significantly lower deployment and network operating costs
No trenching, boring, pavement cuts or property damage.
No expensive water, gas or utility line damage risk.
Deeper fiber eliminates network actives which drives lower power and maintenance costs.
Up to 90% faster installation
No digging, backfilling or compacting soil and no silt fence.
In most cases, no permits or utility locates required.
Better customer relations
No damage to landscaping, trees, sod, irrigation systems or sewer lines.
No soil or silt run-off.
No issues with customer-placed obstacles in easements.
Environmentally friendly
Fluid used in core ejection process is biodegradable.
Ejected polyethylene coax core and aluminum center conductor are recycled.
Versatile
Supports hybrid fiber coax upgrade to RF over glass, micro-nodes or FTTx architecture.